Want to experience our new ship Iona?
Iona will soon be joining the fleet and she has so many surprises in store. From brand-new venues on board, to opportunities you may never have thought possible on a cruise holiday – there's so much to look forward to. You could ski a Norwegian mountain by day, enjoy a swim with a view in her Infinity Pool, sip a hand-crafted gin from her boutique distillery, and take your pick of 30 places to wine and dine by evening. We're also working in collaboration with our Local Food Heroes; renowned native chefs who are bringing authentic menus and ingredients to Iona's restaurants.
You can find out more about Iona's exciting new venues further down this page, but first, let's take a look at where she can take you on holiday. Bask in Norway's long summer days as you sail through the fjords. Wrap up warm for an enchanting European market adventure. Indulge in a winter sun escape to the Canary Islands. And with evenings and overnight stays on selected holidays, you can find the best place for sunset and watch as a European harbour slips slowly from day to night.
Find a landscape like no other
Iona's set to spend her summer days sailing to the breathtaking Norwegian Fjords. If you've ever wondered whether a cruise holiday is for you, the fjords are the perfect introduction. As soon as you sail into the depths of ancient, untouched landscapes, you'll realise that some places are best explored by ship. How else can you take in the vast beauty of crystal-clear lakes, tumbling waterfalls, soaring rock faces and snow-capped peaks? You can wake surrounded by the natural world in all its glory and admire the views from the peace of your own balcony or with a coffee in the glass-walled Grand Atrium.
But there's more to the fjords than admiring the scenery. You can kayak the serene waters of Nordfjordeid; stroll back in time amidst Stavanger's 18th-century wooden houses; or hike to the foot of stunning Briksdal glacier. Iona brings a whole world of possibility to help you dive even deeper into the fjords. On board, you can enjoy authentic Norwegian cuisine created exclusively by our Local Food Heroes. Taste Kjartan Skjelde's bespoke six-course taster menu in Epicurean or take a seat for Marte Marie Forsberg's traditional dishes in the main restaurants, as well as her street-food-style plates in Taste 360. And come away having experienced a feast for all the senses.
SPAIN, PORTUGAL & CANARY ISLANDS
SPAIN, PORTUGAL & CANARY ISLANDS
Say goodbye to the British winter weather and hello to sunshine and siestas. On Iona, you can see Spain, Portugal and the Canary Islands as you've never seen them before. Discover tropical forests. Climb volcanoes. Laze on a black sand beach. Stay overnight in some of Europe's most fascinating cities. Blessed with year-round sunshine, the Canary Islands are the perfect destination for a winter break. Take the chance to delve into the diverse terrain. Perhaps you'll stargaze on Tenerife's Mount Teide, go canyoning in Gran Canaria's waterfalls or trek through Lanzarote's lava fields? There's more to uncover beyond the blissful beachfronts of the region.
Our evenings and overnight stays in some of the region's finest cities will give you even more time to explore. Come face-to-face with Barcelona's unique Gaudí architecture, wander Lisbon's winding backstreets or learn to cook an authentic paella in Valencia. And your exploration of Spanish culture won't end there. On board, we offer you authentic Spanish street-food-style dishes in Taste 360 and mouth-watering tapas in The Glass House, created exclusively by our Local Food Hero, José Pizarro. With so many possibilities, you'll soon see the region in a completely different light.
NORTHERN EUROPEAN CITY ESCAPES
NORTHERN EUROPEAN CITY ESCAPES
Discover the ultimate city escape
Join Iona as she takes you to three atmospheric cities in Northern Europe. It's your chance to experience our brand-new ship, as well as the ultimate city escape. Discover the cool city streets of Hamburg with its multi-cultural food scene and impressive musical legacy. Lose yourself in Bruges (from Zeebrugge) with its fairy-tale towers and soaring spires. And with two days in Rotterdam, you could visit Amsterdam to take in the city vibes and sights from its picturesque canals.
Each city dazzles with centuries-old architecture mingled with innovative new designs, traditional foodie stops and buzzing market squares. With Iona, you can travel effortlessly through Europe and find new ways to explore old favourites with an evening departure in Hamburg and overnight stay in Rotterdam. And once you've discovered the charms of these captivating cities, there's plenty to tempt you back on board, from live shows to delectable restaurants.
WHAT MAKES IONA SO SPECIAL?
We know a thing or two about holiday must-haves and you'll find them all on Iona. She's designed to give you even more freedom and variety. With her exceptional range of accommodation, pools, shows, restaurants and shore experiences, you'll be spoiled for choice.
And her greatest feature? She's built for travellers. You can marvel at the beauty of the Norwegian Fjords from one of her many panoramic viewing spots, like her brand-new Conservatory Mini-suites.
You can taste the thrill of the tapas trail or the freshness of the fjords with menus crafted exclusively by our Local Food Heroes. And you'll sail on the first British cruise ship to be powered by liquefied natural gas – a significant reduction in carbon emissions that will allow us to enjoy more responsible travel for years to come.
Here's a closer look at some of her exciting new features…
The Limelight Club
A chic spot to enjoy exclusive evenings of a delicious three-course meal alongside a spectacular performance. With acts such as Denise Van Outen and La Voix performing on Iona's holidays, you can expect fabulous nights of music and comedy. On selected adventures in the fjords, you can also delight in an evening of dinner and dance hosted by our Strictly Come Dancing special guest and pro dance couple. After dinner, The Limelight Club turns nightclub with live music and the chance to keep the good times rolling 'til the early hours.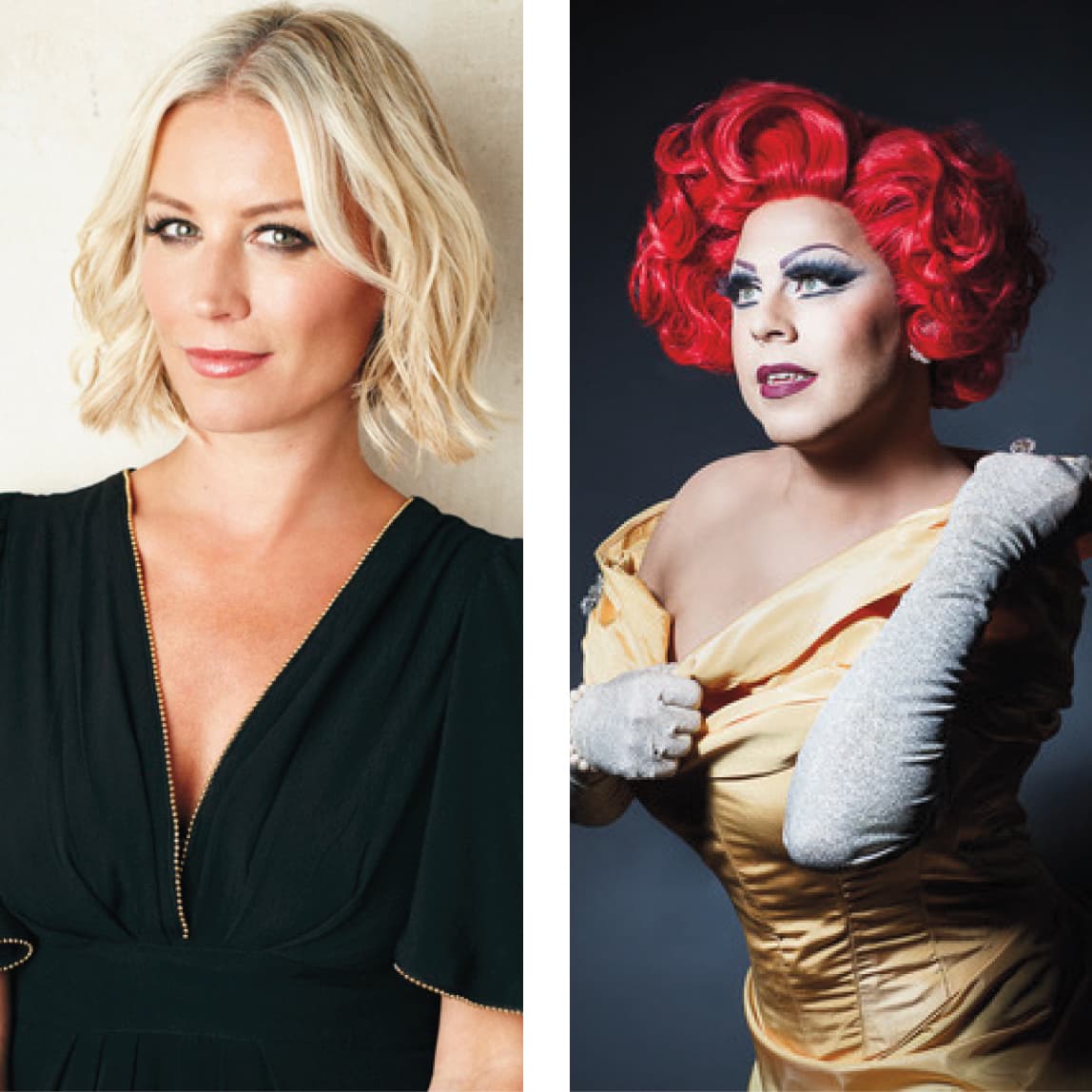 Conservatory
Mini-suites
A brand-new style of accommodation, Iona's Conservatory Mini-suites give you more room to enjoy the spectacular views that await you each day of your holiday, as well as many of our Mini-suite benefits. You can relax in the additional living space between the room and balcony, bringing the outside in via floor-to-ceiling windows. This space can be closed off or left open according to the time of day or mood. Perfect for a morning coffee with a view while everyone else is sleeping. Or for chilling out in the evenings with pre-dinner drinks.
Guest DJ sets
in SkyDome
SkyDome will host guest DJ sets from Alex James. The musician, Blur bassist and music festival host certainly knows a thing or two about bringing the party and is the perfect fit for one of Iona's most electrifying new venues, SkyDome. Spanning two decks with its impressive glass roof, SkyDome is the ideal place for daytime relaxing and amazing evenings of live entertainment and a sizzling party atmosphere.
DINING
Head to Ripples, Iona's family-friendly gelateria on Promenade Deck or Sundaes in SkyDome where we're partnering with Snowflake Luxury Gelato – an award-winning company with an innovative streak. There's far more on offer than stylishly served cones: you'll find gelato cakes, sundaes, customisable sticks, cookies and the creamiest milkshakes (made with three scoops of gelato, no less). And for the ultimate experience? A three-tiered gelato afternoon tea.
With 30 places to wine and dine, Iona offers something for everyone. For light bites from around the world, pay Taste 360 a visit to see street-food-style dishes whipped up before your eyes. Or if you're after flavours of the Med, don't miss The Olive Grove; it's the ideal venue for all-day relaxed dining. And for a laid-back spot, choose The Keel and Cow: delicious gastropub food, handpumped real ales and a great selection of craft beers.
And don't miss our unique on-board gin distillery – the very first to exist at sea! Anderson's Bar and Library will be home to a custom-made gin still which allows our unique blend to be distilled, bottled and labelled on board. You can be the first to try our deliciously smooth and one-of-a-kind gin, as well as enjoy masterclasses and tastings. It's a real treat for gin lovers.